Jeremy Lin, the most prolific star of the NBA, not only stands out on the court, but also has the business value of chasing Chinese companies.

The New York Knicks' new shooting guard made a seven-game winning streak in two weeks to complete the transition from ignorance to superstars. Two weeks ago, he was only a "dragon player" who could be laid off at any time, but now he is nicknamed "Lin Frenzy."

Jeremy Lin's inspirational experience and his status as a Chinese-American Harvard graduate have attracted many Chinese sportswear brands wishing to enter the international market. Some of these brands have already taken practical actions.

Xu Zhihua, CEO of Peak Sporting Goods Co., Ltd., arrived in the United States last week. According to reports, he will meet with Jeremy Lin to discuss endorsement contracts.

Liu Xiang, director of public relations at Peak, told the China Daily that Xu Zhihua did meet Jeremy Lin in New York, but this trip was to attend the opening ceremony of Peak's second store in the United States.

"We don't know if they will talk about contracting," said Liu Xiang.

Liu Xiang also said that Peak has been paying attention to Jeremy Lin for two years.

"Pick is more interested in people with inspirational stories," he said.

"Lin Shihao's experience is consistent with Peak's brand spirit," said Liu Xiang. "We all came from China, and we have just started internationally."

Jordan Sports Co., Ltd., another domestic sporting goods company whose main products are basketball shoes and clothing, is also conducting a commercial evaluation of Jeremy Lin.

"Jordan Sports values ​​the long-term development of the players, so we are still analyzing the relevant data," said Hou Lidong, manager of the Jordan Public Relations Department.

Other domestic sports brands, including Li Ning, have expressed concerns about the development of Jeremy Lin, but cannot disclose the sponsorship plan until they are determined.

However, for domestic sports brands, the biggest obstacle to signing Jeremy Lin is probably the contract signed between Jeremy Lin and Nike in 2010. Due to confidentiality terms, the amount and duration of this contract have not been disclosed.

"Nike will continue to support Jeremy Lin and provide him with Nike products," said Sun Pengzhou, Nike China Communications Manager, who told the China Daily that he did not respond to the Chinese brand's competition with Jeremy Lin.

The NBA's official partner, Adidas, also stated that Jeremy Lin's apparel, which is authorized by the New York Knicks, will be launched in the Chinese market in the near future, Bloomberg reported on Monday.

"In theory, Chinese sports brands still have the opportunity to sign Lin Shuhao and need them to buy out contracts that have not yet expired," said Qiang Wei, sports marketing director at Ogilvy & Mather.

However, Chinese brands' pursuit of Jeremy Lin is now mostly following suit, analysts said.

Jeremy Lin is currently more influential in the US basketball market than in China. Qiang Wei said that the Chinese market has also been ignited.

The first benefit of Jeremy Lin's outbreak was the New York Knicks. The sharp increase in the ratings of their games helped promote more games to be broadcast in the future, which means that the Knicks can get more TV broadcasts.

The NBA can also reclaim Lin Shihao's return to Asia as a result of Yao Ming's retirement.

"(Lin Shihao's performance) can help us increase our popularity in China," NBA president David Stern told China Daily in a video interview last Thursday.

However, Chinese analysts said they are not yet able to make a full assessment of Jeremy Lin's commercial value because he broke out too quickly.

"Lin Shuhao's sudden 'crazyness' made us a little unprepared. We are still collecting and collating his data in order to fully evaluate his potential business value," Qiang Wei said.

"Lin Madness" has even blown to the Chinese market for pedantic education. "Shanzhai" sporting goods sellers and manufacturers also hope to use Lin Shuhao to sell more goods.

A shop owner who sells non-officially licensed sporting goods in Beijing said that customers who recently purchased Jeremy Lin's team uniforms, T-shirts and other souvenirs are numerous and the customers are mostly young basketball fans.

"Since Yao Ming retired, we don't have many customers who buy Chinese-American sports star products in the store," he said. "It seems that these businesses have suddenly returned."

The owner said he estimated that he would be able to sell 50 Jeremy Lin's uniforms in a month.

However, he was waiting for the supplier to provide him with the shirt with the name Jeremy Lin.

The manufacturer of these unlicensed products told the shop owner that they were still waiting for a prototype of the latest product from authorized stores in New York and Taiwan.

Sources of goods are also a problem for online shops, although online shopping is much better than physical stores.

"Lin Shuhao's uniform has become the best product sold in my shop," said a Chen Taobao seller to China Daily.

His shop mainly sells NBA team jerseys. From February 11 to February 20, Jeremy Lin's uniform has received more than 430 orders, each priced at 110 yuan.

After accepting the booking more than one week, Chen's boss began to ship the first batch of customers on Monday, and the second batch of customers still needed another five days to get the goods.

Other products bearing Jeremy Lin's face, name, and number, including key rings and mobile phone cases, have also been placed in online stores.

(Source: China Daily Wang Wen, Editor: Liang Shan)


Woven Non-Fusible Interlining is a kind of weaving fabric .After bleaching ,and use chemical material to make the fabric soft or hard ,thin or thick . This kind of interlining can be used in all kinds of garments ,bags ,shoes and so on .It can imporve the base fabric thickness ,hardness .It also be called as the skeleton of the garments .
It can be a lot of color ,like white ,black ,red ,green and also can be do all kinds of touch ,soft ,medium ,hard ,very hard .
It can be divided to some types according to the fabric yarn count and construction .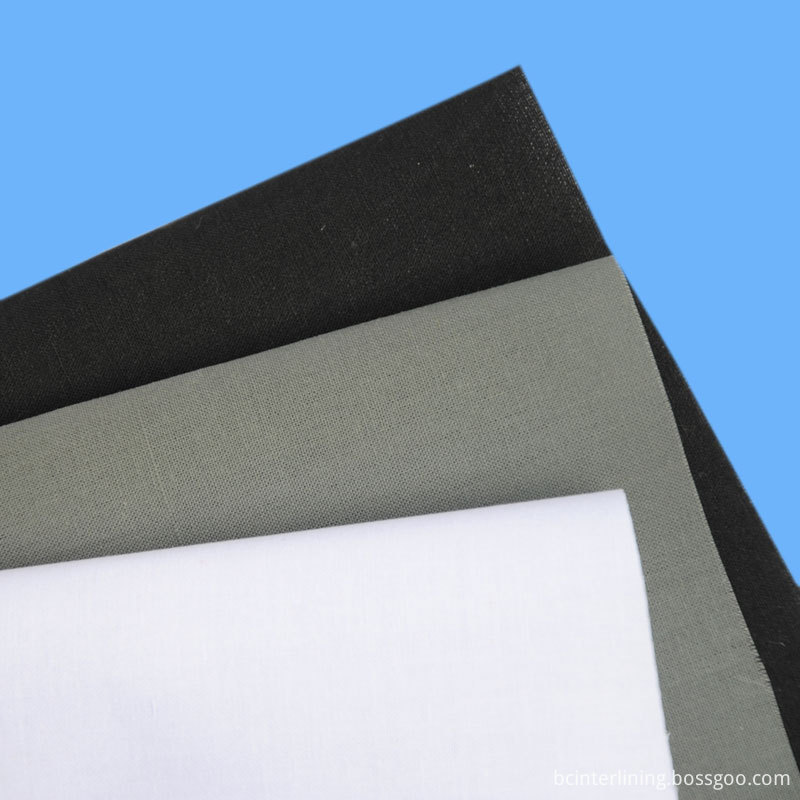 Woven Non-Fusible Interlining
Woven Non-Fusible Interlining,Soft Non-Fusible Woven Interlining,Hard Handfeel Non-Fusible Interlining
Baoding Garment Interlining Factory , http://www.bcinterlining.com